2011 is ending fast, and there's still 15 more great albums to talk about! So onto my best instrumental albums of the year list, numbers 10 to 6.
10. Tim Berne/Jim Black/Nels Cline - The Veil
What happens when you put three avant-improv masters in a sweltering storefront in the East Village, let in a standing room audience of 80, and turn off the fans?
Some real hot music, that's what.
Ok, ok, haha, I'll stop with the puns. But this music is truly burning.
Black drives the bus with a manic energy. Cline splatters the canvas with torrid sheets of guitar-paint. Berne somehow wiggles a sense of narrative through this dense sonic thicket. It's a real head-trip and a massive adrenaline rush; a thinking-person's rock, and a rockin' person's jazz.
It's lightning in a bottle.
That should be enough to get you to check it out, but if you want a bit more play-by-play, I have some here.
9. Joel Harrison String Choir - The Music of Paul Motian
You've heard me go on about
the uniqueness and vitality Paul Motian's drumming.
But one can't have a three-decade career as a bandleader in jazz without having some compositional voice. Motian's compositional acumen tends to be overshadowed by his inimitable drumming, or his drumming is at least understood as a necessary ingredient for the success of his compositions.
Guitarist Joel Harrison disagrees with that critical appraisal and makes a compelling case for the strength and beauty of Motian's output through his rearrangements for an ensemble of 2 violins, 2 violas, cello, and 2 guitars.
That's right. No drummers here.
Motian certainly had a soft spot for the sounds of string instruments. He worked with soundscaping guitarist Bill Frisell for thirty years, then put together bands with 2 or 3 guitarists, and later embraced the wily microtonal sounds of Mat Maneri's viola (which also appears on Mr. Harrison's album). While Motian composed at the piano (having learned from Keith Jarrett in the 1970s), he probably never had the chops to compose multiple lines at once. Instead, he'd keep the sustain pedal down, letting rich chords ring out while lacing folk-like melodies above.
Harrison has serious classical-composing chops of his own, and dresses up Motian's tunes with ornate counterpoint. Yet these arrangements play to the strengths of these improv-ready musicians, never weighed down in filigree, always putting the tunes first. Just the sound of the string choir emphasizes the rustic feeling of Motian's tunes, strengthening his style's identity as surreal Americana, like a mystical landscape of Andrew Wyeth. "It Should Have Happened A Long Time Ago" is utterly transporting, unfolding like a rough-hewn cartoon flight over grain-colored hills.
Although the album came out 11 months before Motian's death at the age of 80, it proves both a fitting tribute and a convincing bit of advocacy. Here's to hoping that Harrison's tribute inspires others to explore and perform Motian's miraculous music.
8. Tyshawn Sorey - Oblique - I
Barrels through the knottiest mixed-meters with the greatest of ease. Has hands faster than Buddy Rich's and softer than Shelly Manne's.
And
he plays trombone?
Yes, Tyshawn Sorey is a drumming superhero. He's been a vital sidekick for math-jazz innovators Steve Coleman, Steve Lehman, and Vijay Iyer for nearly a decade, but more recently has staked out his own unique compositional space. 2009's "Koan" was a gorgeously sparse affair, and a real surprise to those (myself included) that only knew his hyperprecise prog drumming. "Oblique I" splits the difference, featuring a set of compositions that are somehow both cerebral and inviting.
Sorey's never afraid of odd group combinations (trombone and acoustic guitar anyone?), but on "Oblique I" opts for a seemingly traditional jazz instrumentation - alto sax (the firecracker Loren Stillman), guitar (the bracing Todd Neufield), piano (the triple-armed John Escreet), bass (the rock-solid Chris Tordini), & drums. Yet this doesn't mean the results are any less novel and adventurous.
In terms of both titles (just numbers) and syntax, Sorey's compositions echo those of his teacher Anthony Braxton. There are just the vaguest hints of tonality and tunefulness, but a huge dynamic range that nary another record can match. The pieces' through-lines are built from these dynamic and textural contrasts, yielding moments of catharsis and heartbreaking vulnerability. Sorey himself guides the proceedings with his peerless drumming. He tunes his drums low for jazz, enveloping the band in a warm halo. And even though he has chops out the wazoo, he never flaunts them in a Buddy Rich-type way, instead electing to develop his own melodies around the toms and cymbals.
"Oblique" describes the music quite perceptively. It's rich and mysterious, never coming straight at the listener. One who decides to follow these circuitous routes will be very much rewarded.
7. The Chiara String Quartet & Matmos - Jefferson Friedman: Quartets
I'd love to imagine Franz Josef Haydn, the proverbial godfather of the string quartet, taking a trip to the present day to hear what music is like. He comes to New York, hearing that there are some really great string quartets doing cool things there. He stops in at the place these cool string quartets like to play most, Le Poussin Rouge on Bleecker Street. One of the said cool quartets - the Chiara String Quartet - walks out on stage to play their friend Jefferson Friedman's String Quartet no. 2. They start and Haydn's head asplodes.
Cuz the sounds that just came out of the ensemble he thought he knew so well are so far beyond his wildest imagination.
Friedman's 2nd String Quartet was written for his friends of the Chiara Quartet in 1999, and it's almost criminal that it has taken so long to make its way to disk. The head-sploding intro is a string quartet gone death metal, all full-bowed sixteenth notes and gnarly dissonance. If anyone tells you classical music is boring, just play them that intro. But the piece isn't just shredding. There are these time-stopping long tones, which sound as if you're staring across an cold, undisturbed lake at sunset. There are burbling pizzicato grooves that slink and tremble underneath wry, undulating melodies.
Friedman is a master at exploring all of the new possibilities these old instruments can offer. In order to make a violin growl like an electric guitar, Friedman has violinist Rebecca Fisher (actually, everyone does this at some point) dig into the strings very close to the bridge, an eerie effect called
sul ponticello
. But it's not just specific techniques. Friedman seems to know what each member does well and the players know what Friedman likes to write. With composer and ensemble working together so closely, the piece takes on a life beyond the notes. There's a reason why the opening daga-daga-daga seems to jump out of the speakers and grab your throat.
To further the spirit of collaboration, Friedman asked his friends in the electronics duo Matmos to put together some remixes of his string quartets. It's a testament to the strength and imagination of the pieces that they sound just fine overlaid with quantized electro grooves and glitchy effects.
6. Craig Taborn - Avenging Angel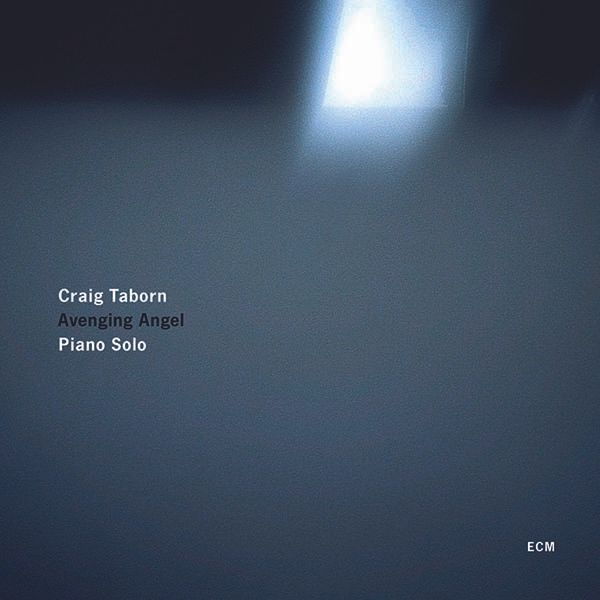 I had meant to review this album when it came out in June. But after listening to it once, I felt I didn't get it enough to be able to translate it. It definitely hit me like a sack of bricks that "Avenging Angel" was a monumental statement by a real deep musician. But what were all of those ideas that Craig Taborn was throwing around? Where did they come from?
Six months later, "Avenging Angel" is still as astounding and inscrutable as ever; astounding and inscrutable as why the world's best (for my money) improvising pianist has the proclivity to only put out an album of his own every several years.
In many ways, "Avenging Angel" is a very self-conscious ECM solo piano record in the tradition of Keith Jarrett and Paul Bley. The opening "The Broad Day King" is Jarrett-like in its lightly-bobbing groove and effortless lyricism, while "Diamond Turning Dream" shares Bley's penchant for pointillism. And of course its recorded in high ECM style, with that crystal piano sweeping through a reverberant hall. Yet all these influences - and tons more from classical impressionism to metal-ish dissonances - are distilled by Taborn's well-pondered aesthetic.
From a technical standpoint, Taborn is primarily concerned with two main ideas - developing musical ideas simultaneously with both hands (gleaned from the multi-keyboard work of Weather Report's Joe Zawinul) and exploring every possible color and articulation that a piano can express. "Neverland" is a tour de force in both departments. Each hand plays its own melody, rarely more than one note at a time each. While the two lines relate to each other harmonically, they don't line up in a way that makes one subservient to the other. Taborn achieves this remarkable independence through attacking notes in different ways, ping-ponging the listener's attention from one line to the other. The time isn't as relaxed as a simpler improvisation like "Broad Day King," but it shows just how hard it is to do what Taborn is attempting. Many players with this kind of technique tend to coast too much (see Corea, Chick), always doing what they do best. It's great to see someone like Taborn overload his CPU and see what unexpected things come out.